Refine Your Results

Yuengling Golden Pilsner 24 pack 12 oz. Can
Yuengling Golden Pilsner is the newest beer from D.G. Yuengling & Son, Inc., America's Oldest Brewer…

Tanqueray Rangpur Gin 750ml Glass Bottle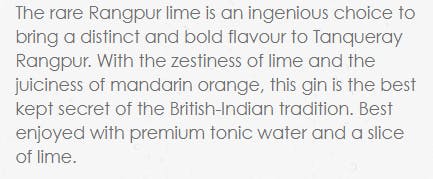 Ketel One Botanical Peach & Orange Blossom Vodka Spritz 4 pack 355ml Can
Artfully infused with real botanicals, natural fruit essence and sparkling water, Ketel One Botanica…

Ketel One Botanical Grapefruit & Rose Vodka Spritz 4 pack 355ml Can
Artfully infused with real botanicals, natural fruit essence and sparkling water, Ketel One Botanica…

Ketel One Botanical Grapefruit & Rose Vodka Spritz 4 pack 12 oz. Can
Artfully infused with real botanicals, natural fruit essence and sparkling water, Ketel One Botanica…

Tanqueray Gin & Tonic Cocktail 4 pack 355ml Can

King Of Sparklers CONFETTI CANNON
With a 'POP', cloud of metallic gold confetti up to 25 ft
METALLIC CONFETTI: (12" Tube)
Shines and ref…

Fistful Of Bourbon Bourbon Whiskey
A blend of five bourbons created with over 100 years of whisky blending experience.

Rattlesnake Rosie's Apple Pie Corn Whiskey 1L
Iron Smoke Distillery's original and award winning Rattlesnake Rosie's "Forbidden Apple Pie" whiskey…

21st Amendment Brewery Hell or High Watermelon Wheat Beer 12 pack 12 oz. Can
We start by brewing a classic American wheat beer, which undergoes a traditional secondary fermentat…

Carlo Rossi Watermelon Sangria 1.5L
A wine from California.
This sweet and fruity pink wine Sangria is a delicious blend of Sangria wine with strong flavors of…

Iron Smoke Straight Bourbon Whiskey
Our legendary apple wood smoked whiskey is carefully handcrafted and aged to perfection in our small…

Kaliber Non Alcoholic Beer 24 pack 12 oz. Bottle
Kaliber is brewed as a full strength lager, only at the end of the brewing process is the alcohol ac…

Absolut Watermelon Vodka
Bringing you that watermelon sweetness with zero added sugar, Absolut Watermelon is without a doubt…

19 Crimes Snoop Cali Rose
A wine.

Lignum Italian Red Blend
A Cabernet Sauvignon from Sicily, Italy.

Sicalia SICALIA PINOT GRIGIO 750ml Glass Bottle
A wine.
Sicalia Pinot Grigio presents all the best characteristics of this international varietal that grown…

MTW Mary Taylor Wine Sicalia Rosso
A Nero d'Avola.

Alberto Nani Organic Prosecco

Gemma Di Luna Sparkling Moscato
Crafted from premium Moscato grapes in a fully sparkling (spumante) style, Gemma di Luna Moscato is…

Living Coral Sparkling Rose 750ml Glass Bottle

Gemma Di Luna Pinot Grigio
A Pinot Grigio from Delle Venezie, Veneto, Italy.

Gemma Di Luna Prosecco
Gemma di Luna wines are crafted from premium grapes grown in some of Italy's most celebrated wine re…

Voga Moscato
A Moscato Bianco from Lombardy, Italy.