Refine Your Results

Svedka Mango Pineapple Vodka Soda 4 pack 355ml Can
SVEDKA Mango Pineapple Vodka Soda is made with real vodka and real juice*. Ripe mango and juicy pine…

White Claw Hard Seltzer FLAVOR #3 - Case 24 pack 12 oz. Can
Black Cherry, Mango, Strawberry & Pineapple Flavors

Glenmorangie The Cadboll Estate Highland Single Malt Scotch Whisky 15 year old 750ml Glass Bottle
Our first single estate whisky created at the Distillery's home from grain to glass. For this limite…

San Giorgio OGOLFORTE BRUNELLO DI MONTALCINO 2014 750ml Glass Bottle
A Sangiovese from Brunello di Montalcino, Tuscany, Italy.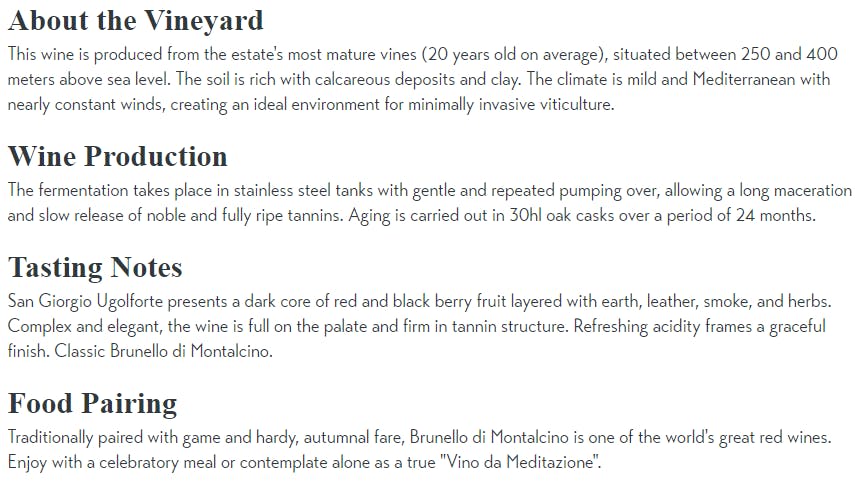 Magners Original Irish Cider 6 pack 12 oz. Bottle
We love making cider, but we reckon there's only one way to do it properly. That's why we're still t…

Copper Dog Scotch Whisky 750ml Glass Bottle
NOSE: Fresh fruit and toffee apple; an integration of ripe orchard fruits (apples and pears), berrie…

Opici Marsala 3L Bag
A Catarratto.
This rich, vibrant red is very versatile to pair with a variety of chicken and seafood dishes. Add a…

Jim Beam Orange Bourbon 750ml Glass Bottle
This mix of orange liqueur and our Kentucky Straight Bourbon Whiskey blends the flavors of juicy cit…

Hendrick's Lunar Gin 750ml Glass Bottle
HENDRICK'S LUNAR is a delightfully smooth and alluring gin that is rich with night blooming floral e…

Flying Embers Wild Berry Kombucha 4 pack 12 oz. Can

Mike's Hard Seltzer Variety Pack - Case 24 pack 12 oz. Bottle

Lagunitas Hazy Wonder 6 pack 12 oz. Can
This fascinating ferment it full of fabulous Sabro, Citra and Cashmere hops for a smooth, tropical f…

Lagunitas Little Sumpin Ale 6 pack 12 oz. Can
Way smooth and silky with a nice wheatly-esque-ish-ness. A truly unique style featuring a strong hop…

Codigo 1530 REPOSADO TEQUILA 750ml Glass Bottle
Código 1530 Reposado combines the purity of our Blanco and the elegance of our aging process. Aged f…

Cutwater Spirits VODKA SODA VARIETY 8 pack 12 oz. Can

Cutwater Spirits GRAPEFRUIT VODKA SODA 4-PK 4 pack 12 oz. Can
Sometimes a hint of bitterness can be sweet, which is the case with this refreshing citrus cocktail…

Cutwater Spirits Mai Tai Mix 4 pack 12 oz. Can
Beach culture's quintessential cocktail seems to never go out of style. Our Mai Tai Mix serves up a…

Cutwater Spirits White Russian 4 pack 12 oz. Can
This elevated twist on a classic abides by the old-school recipe. Our award-winning Vodka with coffe…

Cutwater Spirits Long Island Iced Tea 4 pack 12 oz. Can
Long Island Iced Tea with Cutwater Vodka, Rum, Gin, and Tequila

Cutwater Spirits Tequila Variety Pack 6 pack 12 oz. Can

El Enemigo Chardonnay 2018
A Chardonnay from Mendoza, Argentina.
Alejandro Vigil is a master of Chardonnay, as well as a man who likes to push boundaries, which is w…

Cutwater Spirits Fugu Mango Margarita 4 pack 12 oz. Can

Tanqueray Sevilla Orange Gin
Tanqueray Sevilla Orange Gin is a unique distilled gin made with Sevilla orange essences and other f…

True Brands ALCOHOL SHOT SHOOTER Box
Alcohol Shot Shooter. Holds 1.5oz of your favorite liquor.