Refine Your Results

Johnnie Walker Bicentenary Blend 28 year old 750ml Glass Bottle
A complex, rich whisky with layers of flavour in which an array of fruit aromas come together in har…

Knob Creek Kentucky Straight Bourbon Whiskey 15 year old 750ml Glass Bottle

Don Julio Reposado Tequila 1.75L Glass Bottle
Aged for eight months in American white-oak barrels, Don Julio Reposado Tequila is golden amber in c…

Macallan Rare Cask Highland Single Malt Scotch Whisky 750ml Glass Bottle
Rare Cask's rich mahogany-red whisky showcases two of The Macallan's greatest and most defining stre…

Macallan Sherry Oak Single Malt Scotch Whisky 25 year old 750ml Glass Bottle
Rich mahogany colour. Aromas of citrus, balanced with cinnamon, sherry and wood smoke. Full and rich…
El Tequileno Reposado Rare Tequila
The world's first and only Reposado Rare is an exclusive limited release offering that combines only…

Jos. A. Magnus & Co. Murray Hill Club Bourbon Whiskey
Nancy Fraley artfully marries 20-year bourbon, 12-year bourbon, and 10-year-old light whiskey to del…

WhistlePig Vermont Estate Oak Rye 15 year old 750ml Glass Bottle

The Glenlivet Single Cask Edition Sherry Butt 16 year old
Continuing its tradition of crafting definitive Speyside Single Malts, The Glenlivet is proud to pre…

Jos. A. Magnus & Co. Straight Whiskey Bourbon 750ml Glass Bottle
A marriage of straight bourbon whiskey aged in white oak barrels and finished in Oloroso sherry, Ped…

Duckhorn Three Palms Vineyard Merlot 2017
A Merlot from Calistoga, Napa Valley, California.
Once again, the famed Three Palms Vineyard has yielded a fascinating and full-bodied Merlot. Luxurio…

Redbreast Small Batch Cask Strength 750ml Glass Bottle

Alberta Distillers Alberta Premium Cask Strength Rye
An authentic prairie rye, this whisky has a rich gold colour, and aromas of banana, toffee and light…

Le Kool Cuvee Grand Cru Champagne 2012 750ml Glass Bottle
Le Kool Champagne by Robert "Kool" Bell.
Limited Supply.

Casa Dragones Tequila Joven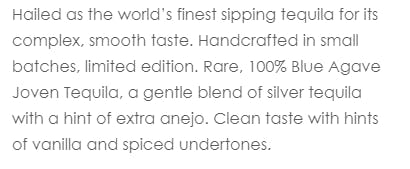 Hennessy VS Cognac 1.75L
Clear and bright, with a beautiful amber hue. Initial notes of fresh toast with roasted almond and b…

Caymus Napa Valley Cabernet Sauvignon 2019
A Cabernet Sauvignon from Napa Valley, California.

Don Julio Añejo Tequila 1.75L
Barrel aged in smaller batches for eighteen months in American white-oak barrels, Don Julio Añejo Te…

Cincoro Tequila Reposado
Medium gold color. Aroma of cooked Agave, with hints of vanilla, baking spices, toasted creme brûlée…
Remy Martin Tercet
Remy Martin Tercet is a unique Cognac Fine Champagne blended from aromatic eaux-de-vie with notes of…

The Game of Thrones Whisky Collection Mortlach Six Kingdoms Single Malt Scotch Whisky 15 year old
Mortlach is one of our most sought-after super premium single malts, and seemed fitting as the perfe…

Booker's 2021-03 Bardstown Batch 6 year old
Booker's Bardstown Batch is a Kentucky straight bourbon whiskey aged for 6 years, 7 months, and 7 da…

Balvenie Caribbean Cask Single Malt Scotch Whisky 14 year old
Caribbean Cask has been matured in traditional oak whisky casks for 14 years, and then 'finished' in…

Casamigos Blanco Tequila 1.75L
Crystal clear color. Hints of citrus & sweet agave aromas. The flavor is fruit forward with notes of…