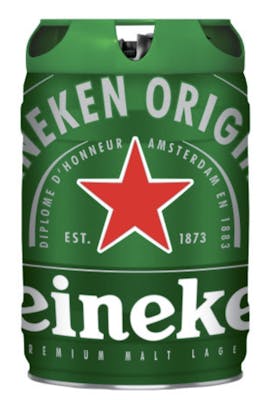 SKU: 00070
Heineken Lager - 5LT BARREL MINI KEG
---
---
We are the KEG KING of New Jersey!
Up to 100 kegs in stock at any given time!
Kegs may have limited availability. Orders must be placed by Thursday at 12noon to best ensure weekend fulfillment.
Special Order kegs may take longer so order early.
We offer plastic beer cups in 20 & 50 packs and many other party & bar accessories!
ALL KEG ORDERS ARE "RESERVE ONLY".
JUST CLICK THE "BUY" tab BELOW & FILL OUT OUR FORM TO RESERVE YOUR KEG TODAY.


Fully Refundable Deposits are as follows:
$30.00 for all Kegs
$70.00 for a Domestic tap
$100.00 for an Import tap & Birch Beer Tap
$20.00 for Keg Tub
$3.00 Keg Tub Rental
For over 150 years, a ceaseless commitment to premium taste and quality have made Heineken® the most iconic beer brand in the world. When you see the red-star on the green bottle, you know every ice-cold, crisp sip will deliver that richly satisfying flavor with subtle fruity notes. A tradition of taste that has lived on for over a century and a half thanks to the simplicity and quality of the ingredients and the meticulous attention to the brewing process.
Also known as Heineken Pilsener Made with 3 ingredients, and they're all natural: Barley, Hops and water. Yeast is an important part of the brewing process, but it's not an ingredient! Our natural A-Yeast produces a fruity flavor that is key in making the Heineken you know and love, and is filtered out after fermentation.